Opquast® Certification - Bénédicte Giffard
Certification Opquast - Maîtrise de la Qualité en projet Web (français) QDUKRX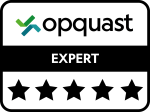 Complete mastery of Opquast rules and associated vocabulary. Optimal level of knowledge to become an expert resource and trainer on web quality.
Issuance

Oct. 27, 2023

Validity

Oct. 27, 2026

Certificate

MQW-V4-2020

Verification code

QDUKRX
Certificate valid until Oct. 27, 2026
---
Score guide
To help you better understand the scoring system for the Opquast Mastering Web Quality training, below is an explanation and a breakdown of the different levels. The scoring for the final exam is based on a scale from 0 to 1000. Please note, the professions associated with each score are given as an indication only.
Score
Badge
Grade
Greater
than 900

Expert : Complete mastery of best practices and associated vocabulary. Optimal level of knowledge to be a quality referent and trainer on web quality.
Profession: Trainer or Web Quality Manager, Accessibility Expert, Senior Web Developer, Senior Front-end Developer
Between
800 and 899:

Advanced : excellent knowledge of web quality assurance best practices and associated vocabulary. Real and appreciable skills to participate in projects with other professionals.
Profession: Web Quality Manager or Trainer, Web developer, Front-end Developer, Senior Project Manager, Senior UX Designer, SEO Consultant, Accessibility Expert
Between
700 and 799

Confirmed : good knowledge of web quality assurance best practices and associated vocabulary. Ability to understand and interact with other web professionals.
Profession: Project Manager, Designer, Back-end Developer, UX Designer
Between
600 and 699

Intermediate : knowledge of the fundamentals of the best practices and glossary. Sufficient capacity to understand other web professionals.
Profession: Community Manager, Digital Marketing Manager, Artistic Director, Web Editor
Between
500 and 599

Novice : basic knowledge of best practices and possibility of making reference to them. Basic knowledge of web project processes and vocabulary.
Profession: Community Manager, Marketing Manager, Sales, Web Editor
---
Skills
Understand the requirements of Web users and know meet their expectations
Take into account the diversity of uses , prevent risks and improve inclusion
Consolidate your practice with checklists and know how to argue about them
Master the vocabulary bases and communicate with all the actors of the Web project
Know the trades, disciplines and integrate into the design processes of the Web project
Participate in the improvement process of sites and Web quality assurance
---
Overview and background
The 240 Opquast rules are defined and agreed upon by an extensive community of web professionals and academics. These web quality assurance guidance rules started as a list of best practices 20 years ago. They have since been revised every five years and have been tried and tested via millions of web interactions by Opquast community's customers, including the leading CMS communities which have developed plugins for WordPress, Drupal and Prestashop. The most recent version, v4, was established in 2020.
Each rule has individual technical sheets and the rules can be searched by project phase or various topics: e-commerce, data-privacy, internationalization, security, code, etc, or by themes: accessibility, SEO, mobile, privacy, and ecodesign. The complete checklist is available on a creative commons license BY-SA.
Broad application and benefits
The rules should be applied to your projects from the design phase through to post-implementation , and they should be understood by all professionals with web and customer experience (CX) responsibilities: from strategy to operations, marketers to project managers, and editorial to technical staff. The benefits of using this ruleset are numerous, including improving customer satisfaction, web performance, and e-commerce, and expanding your client base, while also decreasing your errors and costs.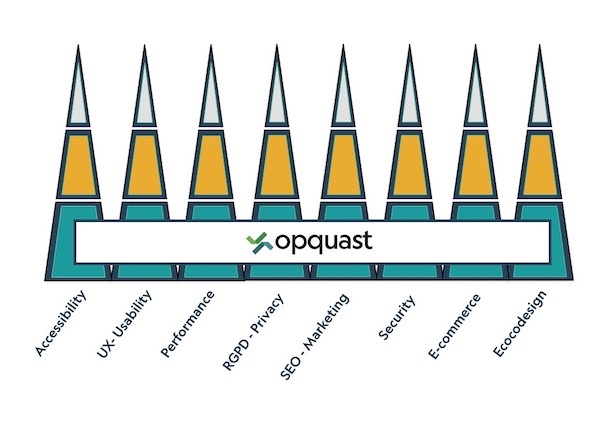 Certification benefits
Attain certification for web project and digital experience skills
Learn new QA reflexes and a customer-centric mindset
Gain a foundational multidisciplinary knowledge base for successful web and digital transformation programs
Integrate immediately with web teams and digital functions to contribute to the web design process
Join a community with passion and resources dedicated to making the web better for all